重返榮耀:讓__再次偉大 Back to glory : Make __ Great again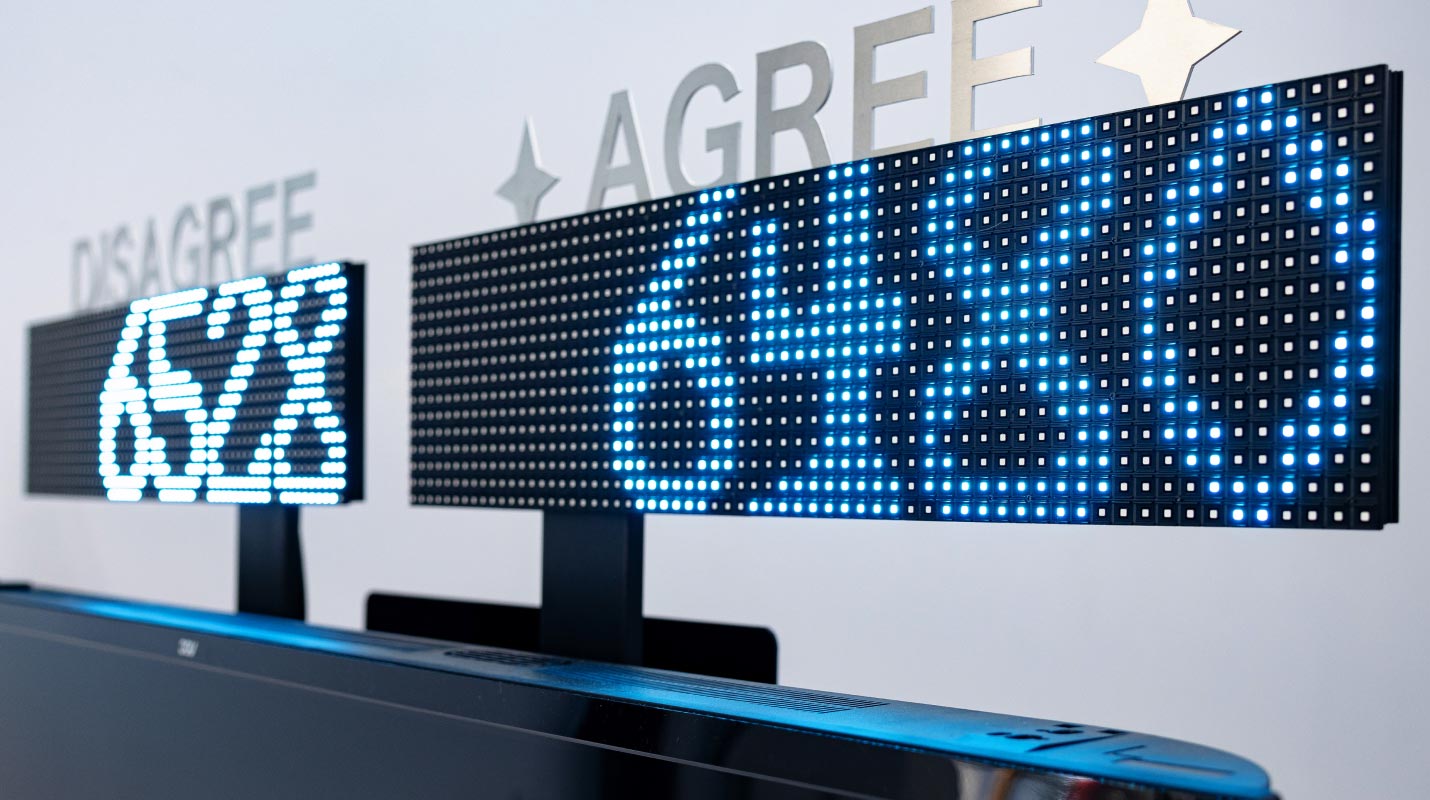 Back to glory : Make __ Great again
重返榮耀這件作品拋出一個樂齡人士義務役制度的提案。透過在空間中設置多頻道的同步錄像裝置,以街頭巷尾常見的政令宣傳設計,使走進場域的觀眾像被各種口號與標語給環繞著。
提出了一個假設性的未來:我們能有什麼方法面對高齡化社會?當勞動力定義出作為人的「有用」時段,如何「更有效地」使用剩餘勞力。作為藝術家,陳俊宇提出了高齡人口軍隊化以作為解決之道,敵托邦(dystopia)的思考,建構出「再次偉大」的想像,運用動態海報的方式來傳遞該概念,影像內容看似荒謬,卻又合乎邏輯。現場設有投票機,邀請觀眾對該想法在現場進行投票表態。
"Back to Glory: Making __ Great Again" presents a compelling multi-channel video installation that delves into the complexities of an aging society and its implications on labor and human "usefulness." Ohau, uses promotional materials commonly found on the streets to propose a hypothetical future that challenges viewers to contemplate the responses to an aging population. The notion of "utilizing the remaining workforce" and finding a more "efficient" manner for their contribution sparks discussions about the changing landscape of work and retirement.

Ohau's imaginative approach to addressing the challenges of extending labor hours and the depletion of labor insurance pension is thought-provoking. By envisioning the militarization of the senior population as a potential solution, the artwork critiques the idea of "becoming great again" through dystopian ideals. The seemingly absurd yet logical contents of the video compel viewers to reflect on the social, ethical, and moral implications of such proposals.

The interactive aspect of the work, inviting viewers to vote on the concept while receiving information, encourages engagement and stimulates conversations about the potential paths our society might take in response to an aging demographic.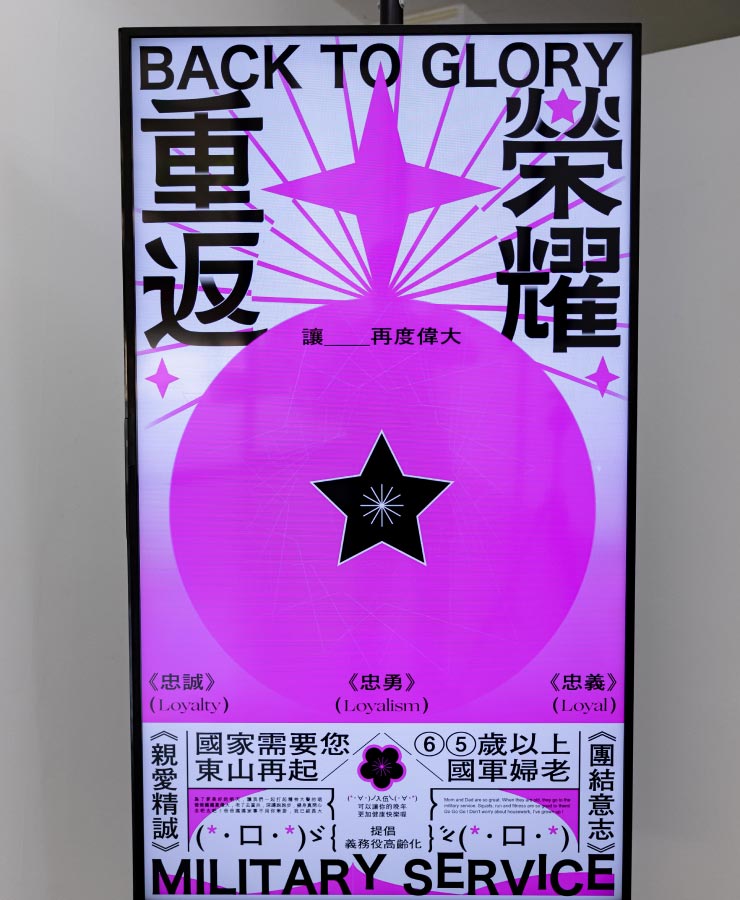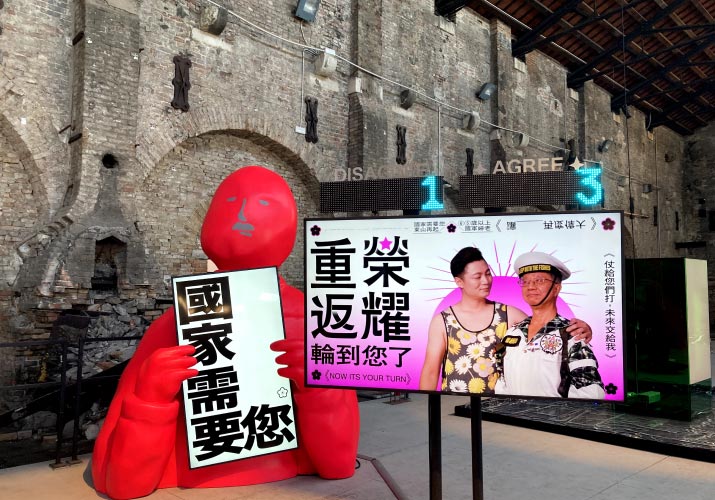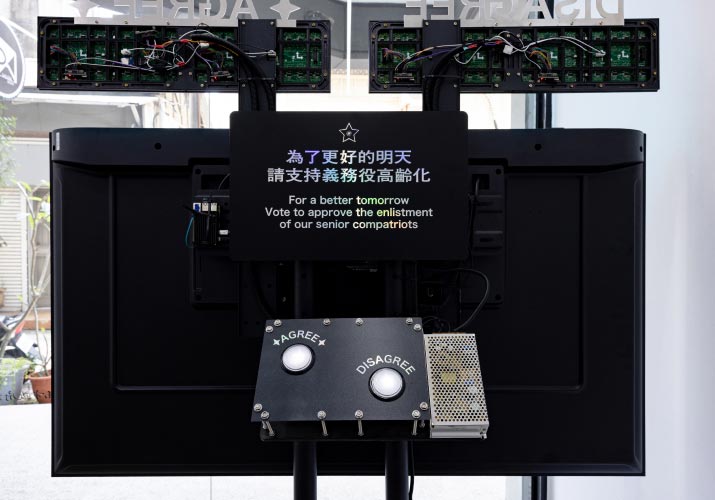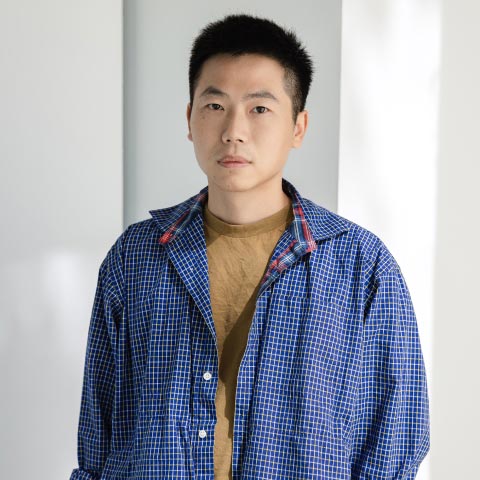 陳俊宇 Chun-yu, Chen臺灣 / Taiwan
陳俊宇1989年生於臺灣高雄,現於臺中工作與生活。
陳俊宇的創作中,依循著微小現世的觀察,對應著一個誇大的(不可能的)實現的方法。腳踏實地誠實的面對解決問題,並非是作者創作意圖,而是詼諧地思考無關的節點間,那些漏出的道德、倫理與癱瘓需重整的社會想像。

Chen Chun-Yu was born in 1989 in Kaohsiung, Taiwan, and currently lives and works in Taichung.
Chen's works are inspired by observations of the micro-world and correspond to an exaggerated (impossible) method of realization. To face problems with a sincere and practical approach is not the artist's intent, and Chen prefers to humorously tackle moral principles and ethics that seep through irrelevant associations and to paralyze social imaginations that require restructuring.